Gong baths , Sound Baths and Laughter Yoga in London  and Glastonbury. Also in the workplace and online virtual sessions.  
London Gong have been running regular Gong Bath Meditation classes for both members of the public and corporate businesses for almost a decade in London. We are one of the early pioneers in the city, highly experienced having trained in-person with the best teachers in the world. 
Gong baths and sound meditation also known as sound therapy or gong therapy.  Amazing deep relaxation and ideal for stress release, anxiety and insomnia. A treat for mind, body and soul. 
London Gong and sound baths calendar   
You will find us in London Angel Islington Town on Saturday's at The Claremont Centre on White Lion Street, N1 9PD.    Usually on the 1st and 3rd Saturday each month. Also available by appointment for Corporate wellbeing events in London and retreats in Glastonbury Somerset.
Glastonbury Summer gong baths on Thursday evenings starting in July 2023 at The Avalon Room in The Glastonbury Experience Courtyard which is next to The Goddess Temple, 2-4 High Street, Glastonbury, BA6 9DU.
Glastonbury Autumn gong bath calendar. 
From September we will have regular fortnightly gong and sound baths on Monday evenings and other adhoc dates throughout the year which may include some weekends.  Also available for private group gong baths in Glastonbury. 
If you are holding a retreat in Glastonbury get in touch to add a gong and sound bath for your group.  For private bookings contact us
To book on our public gong bath meditation sessions or to purchase gong bath gift vouchers please visit https://bookwhen.com/londongong
New 6 Week Meditation and Joyful Wellbeing Course Stanmore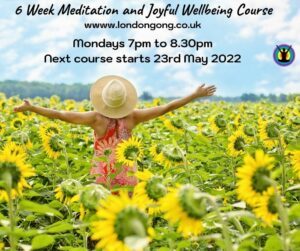 New Shamanic Drum and Gong Bath for dates please click on our Gong Calendar.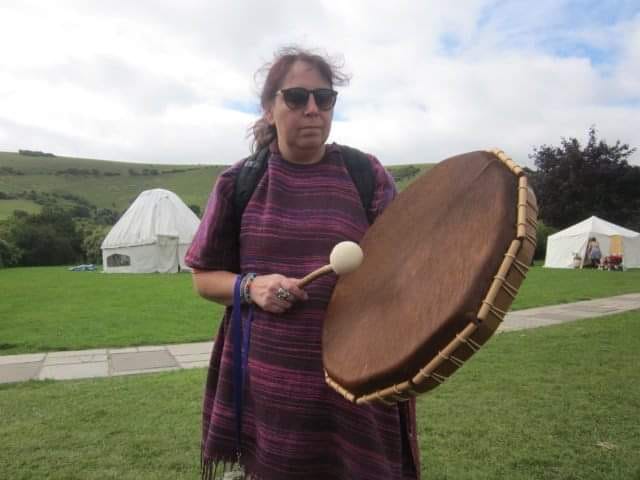 Coming soon Gong baths in Glastonbury.  

New Gong bath recordings available now
Gong to sleep – This is a special gong bath recording to help you to fall asleep. There is no call-back, just drift off in to a lovely deep sleep.
And coming soon we will be adding new gong recordings in mp3 format allowing for an ideal opportunity for you to enjoy gong in the comfort of your own home in-between our live sessions or as you need them. 
Gong for relaxation
Gong for anxiety
Gong for grounding
Order your Gong for sleep session at https://bookwhen.com/londongong/e/ev-s5ih-20211023000000
Our in-person gong bath meditations are in London in Angel and Islington and Camden Town.  For Islington the nearest tube is Angel and Islington and London Rail Highbury and Islington.  For Camden we are just a minute from Camden Town tube and a short stroll from Camden Road station.
Click on our booking link for our full calendar and to book.  We do get fully booked! Book as soon as you can.
Covid safety precautions. Now that social distancing has ceased we are still allowing more room for you in our sessions. We are not allowing full capacity so that you have more room.  I also do regular lateral flow tests and will never work if I have symptoms or a positive lateral flow test.
Just added new service online live streaming gong baths on zoom starting soon.   Also corporate wellbeing virtual gong bath and gong meditation live streaming on zoom and youtube.
We offer private group and corporate wellbeing bookings.  Please contact us for a quotation and a full list of our health and wellbeing services. Also regular Gong and Sound Baths in Camden Town London and City of London. Our regular sound healing events are currently in Camden Town London NW1
Hot news!!  Shamanic Drum Baths. Check our Calendar.
Gift vouchers are now available, give the gift of a gong bath to your loved ones.  Can be redeemed as full or part payment for any of our sessions at all locations.  Also available for private sessions.  Ideal for festive gifts, birthday and just to show you love someone. Click to Buy now in time for Christmas
For more up to date news, check out our gong bath blog
Regular Gong Baths with London Gong in Bushey, Stanmore, Islington,  Camden Town and Central London. We have also gonged in Covent Garden and other popup locations including Clerkenwell & Angel and Islington , Finchley, Euston and Kings Cross.
For our schedule and bookings please visit https://www.londongong.co.uk/gong-bath-schedule-london/
Join our mailing list to be in the loop More dates and venues will be added later in the year.
Also occasional Gong Baths in Covent Garden, Leicester Square, South London, Camden Town, Central London, Archway and more!!! Possibly opening in West London later in the year. 
Special Full Moon and New Moon Gong Baths in various locations in London
Laughter Yoga Wellbeing Workshops
Laughter Yoga Classes and training courses for members of the public. Please see our laughter event calendar for dates and booking.
For private group and corporate Laughter Yoga bookings please visit our sister website Laughter Yoga Wellness London & UK
To Stay in the loop! Join our mailing list
See our Events Calendar https://www.londongong.co.uk/gong-bath-schedule-london/ for our current London events.
We offer our Stress Busting services  including Gong and Sound Meditation, Laughter Yoga, EFT and Mindfulness Meditation to private groups and corporate clients (helping to relax and de-stress Londoners in their private and working lives)
Please visit our events page to book for future dates and venues.  We will be adding several new locations for this year. To be kept in the loop and for advance notification and occasional offers sign up to our newsletter. 
GONG is the most resonant tone-producing instrument known. When it vibrates one can sense musical reverberations within all the cells of the body. 
When people hear the sound of gong, they are subconsciously reminded of blissfulness and safeness of time, spent in the mother's womb.
What is a Gong Bath – As you submerge in the deep ocean of sound, your mind, body and soul is bathed with the tones of the Gong. Taking you to a space of non-ego or neutrality, a space of bliss where the body's natural healing process begins…
During the Sound Bath a variety of instruments are played which can include Koshi Chimes, Singing Bowls, Ocean Drums, Bells and Rattles and last but not least Gong!. My entire sound collection is growing as I gather new and interesting sounds. I may use all or some of the instruments I have with me. Each sound journey is different as I work intuitively and bring in whatever feels right at the time!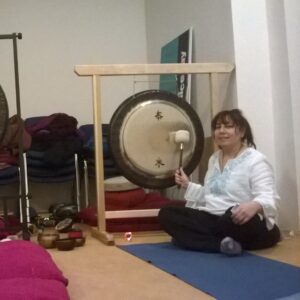 Meet Odette Kurland – Founder of  London Gong.
Odette Kurland – London Gong founder is a highly experienced Gong practitioner also known as a Gong Master having earned that title at Gong Master Training.  She has around 8 years of experience.  One of London's original early gong players. She has been playing gongs since 2014 and trained with the best teachers in the world.  You can be assured of a professional and highly experienced gong master player.  You are in safe hands for fully insured professional wellbeing services.   
Gong Master, Sound Healer Practitioner, Mindfulness and Meditation teacher, Happiness Facilitator, Reiki Master and Laughter Yoga Teacher/Trainer. She has trained with various Gong Teachers including Sheila Whittaker , Don Conreaux , Tom Soltron and Abby delSol. Don Conreaux is the creator of the Gong Bath as we now practice it in the West.
In 2016 Odette embraced the Shamanic Path with Shamanic Advance Pathways training at Caer Cohrhain in Kent. Her sound baths have a shamanic influence and drum, rattle and other shamanic tools often play a big part in her sessions.  On saying that each gong bath is different as she works intuitively and plays what feels right for each session. 
in 2015 Odette was involved in organising London Events for the Tone of Life European Gong Tour with special guest Grand Gong Master Don Conreaux. This included a Sold Out London Gong Workshop and Gong Concert attended by around 200 people.
Join our mailing list for advance notification of our future one off and regular events
Please contact Odette for more information or to book any of the above. Leave your details via our contact page and you will receive a call back or email.
and Older news below. It happened, it was amazing, we loved it and so did you 🙂 
Sun and Moon Festival 14th – 21st August 2016 – Gong Baths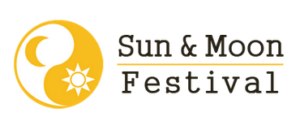 Arts Depot in North London, in the heart of North Finchley. Click through to our Events Calendar

Summer Gonging 
Nothing more special than Gonging in Nature. A special gong bath in the garden with an audience of birds and the sounds of leaves rustling in the breeze.
New 6 week meditation and joyful wellbeing course in Stanmore London starts 23rd May 2022 Mondays 7pm to 8.30pm.