The 14th of February is World Sound Healing Day. 
As we heal ourselves, we heal the planet. As we heal the planet, we heal ourselves.
Join 1000's of people worldwide sounding the AH sound on this day with the intention of bringing peace and healing to our Mother Earth. Sound coupled with intention provides a truly powerful avenue for healing.
Sound healing is a powerful healing modality, as it bridges the non-physical (the unseen spiritual worlds, primordial intention, loving energy, and Source) with the physical; the sound wave vibrations become carriers through air and matter, into our auric fields and physical bodies.
Sound healing is a healing transmission that we receive in our physical bodies (which is important, because it's in the physical realm that we experience our life and the world). Our bones, organs and the water in our bodies resonate with the healing vibrations that are divinely guided, and broadcast during the playing of the gong, drum, voice and other instruments.
Odette Kurland and Justin Luria invite you whole-heartedly to this celebration of sound healing, which is dedicated to the gentle awakening of the human heart (all healing and spiritual practices have that goal, but as it's also Valentine's day, we'll be particularly conscious of it!)
What to expect.
Together we will be sounding forth for 5 minutes with an "AH" encoded with the energies of love and compassion. Together we project a "Sonic Valentine" to our Mother Earth that helps in assisting the healing of our planet!  
Then we will start with grounding exercises and movement, to help us come more into our bodies and to raise energy for our healing. Then there will be a shamanic drum bath, where the nourishing and supportive energies of the earth and spirit will be channelled through the drumming and vocal toning. After the drum bath we'll have some gentle movement to integrate the experience, and to transition us to the gong bath. The gong bath (with the two beautiful symphonic gongs) and other therapeutic instruments will take us into a state of deep relaxation as we touch into primordial being through the doorway of sound. After the gong bath will be a grounding integration, and an opportunity to share your experience and ask questions.
About Odette and Justin
Odette and Justin have co-organised and collaborated on various events including London events for Masaru Emoto, Tone of Life, Don Conreaux and Patricia White Buffalo, and are thrilled to be offering their first joint co-created sound healing bath!
Odette has been working with Energy Healing for many years.  A Gong Master, Reiki Master, Spiritual Healer, Meditation Facilitator and Laughter Yoga Instructor.  She found herself drawn to the power of Gong a few years back and now sound has become an important addition to her holistic work.  Her Gong teachers include Don Conreaux, creator of the Gong Bath! This year she is answering the call to explore the Shamanic path after feeling a deep connection with drum.  A lover of Animals, Nature and wildlife.  She runs regular Gong Baths in London.  Her website is http://www.londongong.co.uk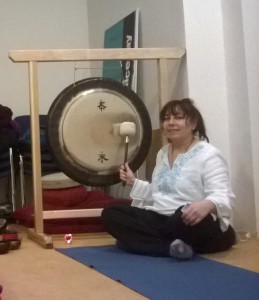 Justin Luria is a healer and spiritual teacher, with a special interest in grounding and healing the illusory split between spirit and matter. He graduated in 2011 from the Barbara Brennan School of Healing, and continues his training as a student of Shamanism with Patricia White Buffalo. He draws upon his rich Jewish ancestry (both Cohenim and Kabbalist, the high priest & the mystic) and perspective as a LGBT spiritual seeker. He lives in London, and loves all things geeky. He hopes to one day marry Patrick Stewart. His Website http://www.schoolofearthmedicine.com/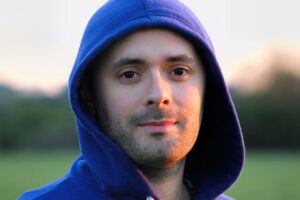 Precautions:
Pregnancy (not recommended during the first and final trimester of pregnancy due to the unstable nature of any pregnancy) Tinnitus/Menieres/Epilepsy – any condition which is 'sound sensitive' or could be triggered by sound.  Metal Implants/pins/screws/pacemaker etc (can resonate the metal and also change rhythm of pacemaker) Mental health condition (anyone with a serious Mental Health condition)
IMPORTANT What should I bring
Wear loose comfortable clothing. Please bring water, a yoga mat or similar, a blanket or sleeping bag and cushion or pillow for total relaxation and warmth. Body temperature can drop rapidly during the gong bath. We have a limited number of Yoga Mats at the venue but not enough for everyone!
Exchange 
£20 in advance and £25 on the door subject to availability
Please arrive by 2.20pm for a prompt 2.30pm start when the doors will be locked. Sorry! No refunds for late attendees!
Please note Ticket availability is spread across mine and Justin's websites. If sold out try http://www.schoolofearthmedicine.com/event/sound-healing-bath/