Laughter yoga leader training – Fully Certified plus extra advanced module.  This is a special extended Course with 4 extra training hours.  London  Archway ( zone 2, under 15 minutes from Euston) November 30th and Dec 1st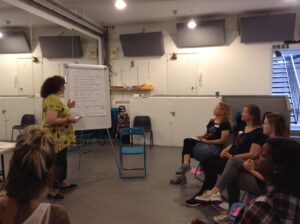 We are condensing this 2 and a half days in to 2 for this special extended certificated laughter yoga training course will give you the tools and techniques to get you started running laughter yoga workshops for groups. You can also start a community laughter club which is an ideal way to gain experience.
We have added an extra 4 hours to this course although this will be achieved across the 2 days!!.  I am very excited about this new training format which will allow you to be better equipped right from the start.  
In this special extended course you will also get to plan and co-lead a live laughter class with members of the public so you will get to use what you have learnt right away! You can participate in this as much or as little as you like, no pressure but the opportunity is there. 
Recent Feedback from August training
"My daughter and I took the 'laughter yoga leader' course with Odette in London, Islington. It was the best fun fill two day ever, leaving us on a joyful high! Who knew learning could be such a giggle! Now I am fully prepared to spread the joy of laughter to as many people as I can. Odette is a natural teacher, with a soothing voice, and contagious laugh! I would recommend her course, and I will be doing more with Odette in the near future! Ha Ha Ha!!!"
Thanks Vivienne and Heaven 🙂 
If tickets are Sold Out, please contact us for possible late availability, next dates or to join our waiting list. For future dates join our mail list http://eepurl.com/cYLz1n
The laughter yoga leader certificate will enable you to obtain insurance for leading laughter yoga workshops with groups.
The certificate is endorsed by your trainer/s and Laughter Yoga International University.
Upon successful completion of laughter yoga leader training, you will receive your certificate. Yey 🙂
You will also receive membership to our private LYWUK Support Network on facebook for our Laughter Leaders where you can connect with other Laughter Yoga Leaders and Teachers and inclusion on our google map of laughter yoga classes. 
Registration: Please secure your place by way of payment. You will receive confirmation and details once booked.
Pre-requisite: Having participated in a Laughter Yoga Workshop. Contact Odette for details of her laughter classes or another that you can attend prior to training. If you have any questions regarding this please speak to us. 
It comprises of two days of Laughter Yoga Leader Training as originally outlined by Dr. Madan Kataria, Founder of the Laughter Yoga Movement plus an extra 4 hours of training allowing you to go deeper and learn more.  Also you will plan and co-lead your first class.  
Course Content
During the training you will
get an understanding of the need for Laughter Yoga
history of laughter yoga
learn the basic guidelines for a Laughter Session
get to know the benefits of Laughter Yoga as well as the risks
learn to present Laughter Yoga
find out how to start a Laughter Club
tips on starting a laughter business
practice a minimum of 40 laughter exercises
learn a little gibberish and other playful activities

exclusive opportunity to plan and co-lead a live laughter yoga class 
Please note I exclusively offer my students an opportunity to practise and gain experience at my laughter class in Archway.  This is as an ongoing opportunity subject to availability as it will help you gain experience and increase your confidence to start your own club/classes. Depending on your previous experience in working with groups,  you may need a little extra helping hand to get you started. 
and much more.
Course Material and exclusive Extras!
You will receive the following as part of your course package
Extra 4 Hours = extra time to go deeper and learn more.
New Leader pack with a few extras 🙂
Laughter Yoga Leader Manual plus exclusive content from laughter yoga wellness training academy. You will receive both a PDF and ring bound manual in a handy handbag size.
Helpful handouts with lots of extras including a few laminated extras
Laughter Yoga Leader Certificate signed by your teacher and Dr Madan Kataria
Optional 6 months trial membership of Laughter Yoga International pro members group at £10 (full profile available for paid membership of $95)
Regular in person support opportunities and access to private members forums.

Exclusive access to Laughter Yoga CPD Events (next one October 6th in London)

exclusive opportunities to gain experience in London with Live Groups!
additional useful information which includes meditations, standard forms and research documents and more
Support via our private facebook group.
facebook group to share laughter clubs
Information on Skype Laughter Clubs – for your daily laughter dose 🙂
Free membership to 

HaHa Telephone Laughter Line

At the end of the two days you will, upon successful completion, receive a Laughter Yoga Leader certificate enabling you to get appropriate insurance in order to run laughter workshops as well as allowing you to call yourself Laughter Yoga Leader.
To reserve one of the limited spaces, please provide full payment in advance.
Dates and Times
2 and a half day condensed! Laughter Yoga Leader Training
The venue is in Archway at Hargrave Hall. Just a few minutes walk from the Tube and around 15 minutes from Euston.
Course Fee 2 day Laughter Yoga Leader Training  
Friday 30th November –  9am to 5.00pm
Sat 1st December             9am to 7pm
Sunday zzzzzzzzzzzzzzzz You will sleep well. Plan to do very little and be kind to yourself 🙂
Fee for this extended program
Early Bird £235 until end of October
Regular bird. £274 Nov onwards
Your Trainer
Your trainer is Odette Kurland aka Lady HaHa #ladyhaha
Odette, our founder and Laughter Yoga Teacher/Trainer.  She has a background in various Holistic Therapies including Laughter Yoga, Laughter Facilitation Skills, Energy Healing (Reiki Master), Sound Healing ( Gong Master) and Mindfulness and Meditation teacher. Known for her caring nature which includes random acts of kindness and offering a warm heart, a pair of socks and a woolly hat and conversation to homeless people. She works full time running her wellbeing and training company, Laughter Yoga Wellness London and UK and London Gong. Going further back, Odette worked a 9-5 in I.T so she is a shining example that change is possible.
She has worked with Charities, Community Groups, Banks, NHS, Media Companies, Cancer Patients, Homeless People, Universities and more. From private parties to Small, Medium and Multi National Corporations. Laughter Yoga has been life changing for Odette and now she wishes to spread the joy by training others to connect with more joy and laughter.
Any questions feel free to call Odette Tel: 07387 563 902
Course fees are not refundable although a course may be transferred to a friend who fits the training criteria.  Please contact us if you wish to transfer your space.
Full Terms and Conditions will be sent to you when you make your booking.
All courses require 4 participants minimum in order for the training to go ahead. Please check with us before making travel/accommodation bookings. We are not responsible for any out of pocket expenses you may have in the event of the course being cancelled.
In the event that the training provider cancels, a full ticket refund will be made however we can not be responsible for any additional costs you may incur such as accommodation/travel etc:
If tickets are Sold Out, please contact us for possible late availability, next dates or to join our waiting list. For future dates join our mail list http://eepurl.com/cYLz1n
If these dates don't work for you please join our laughter enquiry list to be first in the loop for the next training dates http://laughteryogawellness.co.uk/laughter-yoga-leader-training/
To reserve one of the limited spaces, please provide full payment in advance.