Fun, Games, Connection, Laughter Meditation and more 🙂 Ho Ho Ha Ha Ha
Please note Laughter is one hour and will start promptly at 11am and finish at 12pm. I am facilitating a gong bath directly after laughter yoga at the venue today so we need to vacate by 12.10pm for the start of the next event. (for gong tickets please visit http://www.londongong.co.uk/event/full-moon-gong-bath-in-london-archway-november-4th-2017/ for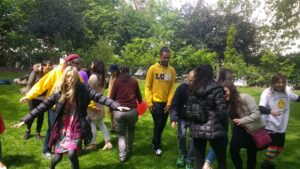 £10 on the day or book online for a saving 🙂
Reasons to do laughter yoga.
Some of the health benefits and in addition to all of that, it's a really good laugh and a truly fun experience.
Elevates Mood, Reduces Stress, Strengthens the immune system, Relieves Pain, Social Connecter and Team Builder, Energy Boost, Laughing through Challenges. It provides strength in adversity, a coping mechanism to help people keep a positive mental attitude regardless of circumstances, cathartic experience
In a nutshell
Laughter yoga is a practice involving prolonged voluntary laughter along with breathing techniques that originate from Yoga. We usually laugh for between 3-5 seconds, in a laughter yoga session we will laugh for between 10-15 minutes, of deep belly laughter. This is the type of laughter that gives us all the health benefits and the benefits will remain with us for a good 24 hours after the session! The body reacts in the same way whether the laughter is forced or natural, releasing the endorphin's (happy hormones). It is these endorphin's that kick in and fight stress, boost our immune system and make us feel good in so many ways. Laughter yoga is experienced in groups, with eye contact, yogic breathing and playfulness between participants. All that is required of the participants is a Willingness to Laugh!
Where
Hargrave Hall (UPPER HALL)
Nearest Tube Archway
When
Please arrive 10.55am for registration for a prompt 11am start. This session is one hour. We will need to finish and vacate on time as I am running another event with arrivals at 12.15pm. Better still come to both!!
What to bring
Wear something you are comfortable to move in and we will probably lie on the ground for a short ending mediation at some point! so if you like bring something to lie. Bring water too, Laughter is thirsty work!
IMPORTANT PLEASE READ
Laughter Yoga is not a substitute for medical consultation for physical, mental and psychological illnesses, but is a powerful natural complementary form of healing. It is like any other aerobic exercise and may not be suitable for everyone as it involves some physical strain and a rise in intra-abdominal pressure.
Some people may have pre- existing medical conditions and one should take reasonable precaution before doing laughter exercises or indeed any form of exercise.
Laughter Yoga Wellness UK www.laughteryogawellness.co.uk
Refund Policy
No refunds. If you can not make it on the day, you are welcome to transfer the space to a friend but let us know their details for our register.
#laughteryoga #highgate #archway #hampstead #camden #muswellhill #art#creativityandWellbeing
Laughter Yoga Wellness UK
www.laughteryogawellness.co.uk