Special Active New Moon – Laughter and Gong Bath Experience in Camden – Saturday 11th August 2018  6.30pm-8.00pm
Out with the Old, in with the New
. Special extended
letting go,
release and renewal and restore 

New Moon Laughter and Gong Bath 

(laughter release and gong restore and renewal). 
Please come with an open mind to try something a little different. We will be accessing a combination of techniques to help us release using gentle shaking and giggles and laughter.  Laughter can provide a powerful cathartic release for some and can be a very powerful healing tool.
The shaking and laughter will help us to release what does not serve us, the laughter will aid us in opening and reconnecting to joy, connecting to one another and then being in a very open and receiving space for the gong and other therapeutic instruments to work their magic. This is an extended one and a half hour session which will include a full gong bath. 
Odette will be working with various therapeutic laughter techniques including laughter yoga.  We will experience gentle movement and shaking during this session along with extra intra-abdominal pressure from extended deep and hearty laughter.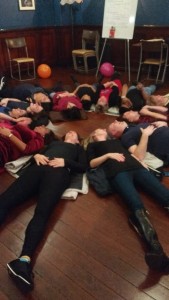 What's the Gong like ?
It's like a safe, healthy, Alternative High for some, a creativity boost, a total release of stress, or just a release from your usual busy head space. Pure relaxation, and beautiful space to be in , possibly see colours or visions. A special and incredible Healing experience. Different for everyone, and even different each time!!
Fantastic for stress relief, relaxation, insomnia and more. Many people report back as having had 'the best night's sleep' after having attended.
No experience necessary. The Gongs and other instruments do all the work. All that is required is a willingness to accept and receive.
What to Bring
Please bring Mat/Blanket/Cushion and Water. This is important for your comfort and warmth. Seriously please PLEASE it's your experience, don't rock up without a mat!!!
If you need a Mat I have just a few at the venue and they can be reserved in advance on a first come basis.
Facilitator:  Odette Kurland is a Gong Healer Practitioner, Laughter Yoga Teacher, Reiki Master and Meditation Faclititator. She has trained with various Gong teachers including Don Conreaux, Abby delSol, Tom Soltran and Sheila Whittaker.
Tickets
Early Bird £22.00 ends 31st July 11.55pm
Regular £25.00 
Precautions
Pregnancy (not recommended under 3 months, due to unstable nature of any pregnancy during this first trimester)
– Tinnitus/Menieres/Epilepsy – any condition which is 'sound sensitive' or could be triggered by sound
– Metal Implants/pins/screws/pacemaker etc (can resonate the metal and also change rhythm of pacemaker)
Mental health condition (anyone with a serious Mental Health condition)
There are a few extra medical precautions due to the laughter aspect of this evening's event. It will be a little more active than usual.
It is contraindicated for people suffering from: Any kind of hernia, Heart disease with angina pain, Persistent cough with breathlessness, Uncontrolled high blood pressure, Incontinence of urine, Epilepsy, Advanced (bleeding) piles and haemorrhoids or any bleeding tendencies in any part of the body, Severe backache, Any acute symptoms of cough, cold and fever.  People who have undergone major surgery should wait at least three months before doing Laughter Yoga
If in doubt about any of the precautions or if you have any questions at all, feel free to get in touch with Odette by email or telephone prior to the event date.
Feel free to contact Odette, should you have any questions.
Refund Policy
6.20pm-6.25pm arrivals
Doors locked 6.29pm (due to the nature of the event, late admittance is not an option)
Event starts 6.30pm prompt.