Welcome to our first gong bath in Southgate – North London.
A  journey of sound to experience a deep and blissful state enhanced by the power and Magic! of gong and other sounds!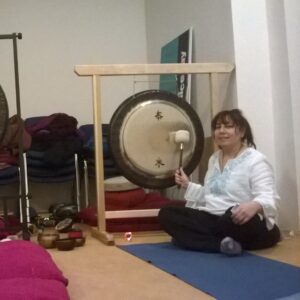 A gong bath is a fully clothed ! deeply relaxing and blissful experience. A perfect after work release and de-stress. The term "gong bath" means that you are bathed in sound waves, there are no clothes removed or water involved, you simply lie down on mats, wrap yourself in a blanket and your head on a pillow, close your eyes and relax. The gongs are played for an hour.
The sounds that come out of the gongs are very unfathomable and very difficult for the human brain to follow, this results in surrender, and you will drift into a deep meditative state, this can happen once or many times throughout a session, everyone can have a different experience. Every session is different.
The gong bath is very good at relieving stress. It tends to bring people to a blissful state that can sometimes last for days.
Please note: There will be a maximum of around 10 participants for an indoor gong bath.  On a warm summers evening we may enjoy an outdoor gong bath in the beautiful secret garden, joined by the beautiful sounds of nature!
IMPORTANT – What should I bring
Wear loose comfortable clothing. Bring a blanket, a bottle of water and cushion or pillow for total relaxation and warmth.  During the gong bath, body temperature can drop quite rapidly. Feeling warm, comfy and cozy can enhance the experience. Yoga Mats supplied although you are welcome to bring your own.
Cost – £15.00 – Opening Offer at this new exclusive venue! 
Important – Please arrive by 7.15pm latest allowing ample time for settling in and a little quiet time before we start. Once the Gong Bath starts it will not be possible for latecomers to gain entry.
Facilitator – Odette Kurland  A Gong Master and Energy Healer (Reiki Master, Rahanni and Spiritual Healer)  She has trained with Don Conreaux (creator of the Gong Bath!) , Sheila Whittaker (author of several Gong Healing books) and other teachers including Tom Soltron and Abby delSol.
Venue  – An exclusive secret hidden Venue – through a  door via a secret garden in a leafy London Suburb (Piccadilly Line)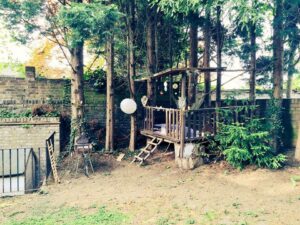 The Coach House, a short walk from Southgate Underground Station ( Piccadilly Line ) and served by various bus routes. An exclusive secret haven to open your mind, balance your body and free your soul. A sanctuary for Music, Art, Wellbeing & Lifestyle.