Shop
Gong charged APOPHYLLITE AND STILBITE Crystals from India
I have sourced some beautiful healing crystals which are available for purchase. All cleansed and super charged with gong and healing frequencies Here's a few samples.  Both are available for sale. They are all different and mostly a mix of apophyllite and stilbite.  I will mainly be offering for sale at my gong baths however if you are really drawn to one, then I will post! Prices vary, from £20 plus postage and packing. 
Both are incredible healing crystals.
Apophyllite and Stilbite
POWERS
Apophyllite and Stilbite form a powerful and a sacred marriage of Light and are birthed from the womb of unconditional love and truth. Both crystals work to form a bridge of Light between our physical experience and the higher Dimensions of Love.
Apophyllite opens conscious awareness to our Divine connection with Earth, the Angelic Realm and the Spiritual Realms of Truth, while Stilbite brings deep and profound healing to the upper chakras, deconstructing the walls we have built to protect our hearts from breaking. Together these amazing crystals open us to experience the deeper consciousness of Love, expanded awareness and perception and a re-connection with our inner joy!
HEALING
In healing, this crystal combination is believed to ease issues affecting brain, heart, throat, thyroid, thymus, eyes, lung and respiratory issues, allergies, skin ailments, balance brain chemistry, detox body and energy bodies, soothe emotions, ease grief, enhance mental clarity, prosperity, dreams.
Stilbite is believed to be excellent for working on a psychic or spiritual level, including astral travel, whilst remaining grounded.  It is said to induce a stillness leading to deep meditation and is also considered to be strongly detoxifying.
Apophyllite is said to bring peace and tranquillity, reducing stress and encouraging honesty in all. It is also believed to create connections between the physical and spiritual, making it a key crystal for your collection.
Click through for more info about the healing and spiritual properties and benefits of Apophyllite and Stilbite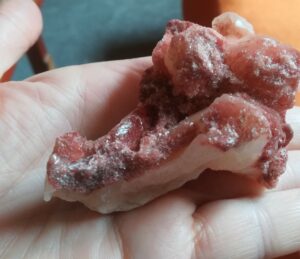 Showing the single result