Gong Bath – North London Finchley Arts Depot
10th October 2016 @ 7:20 pm

-

8:30 pm

£15.00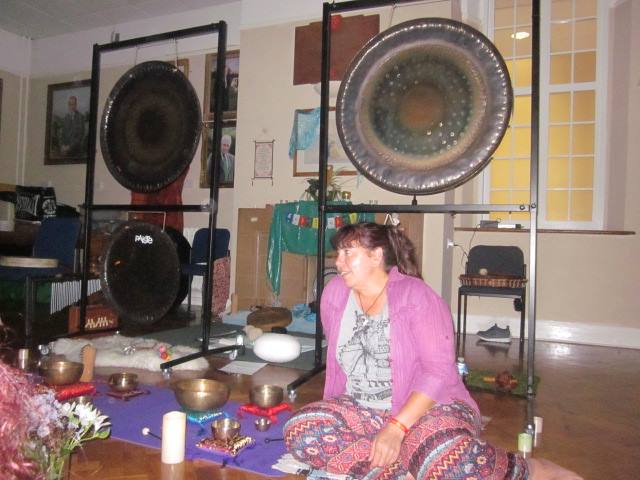 Gong Bath – Arts Depot Finchley, North London Monday 12th September
A journey of sound to experience a deep and

blissful

state enhanced by the power of the gong.
Feeling Stressed ? Can't Sleep ? Feeling out of balance ?
Immerse yourself in the sound waves from a vibrating gong.
Fantastic for stress relief, relaxation, insomnia and so much more. Many people report back as having had 'the best night's sleep' after having attended.
What happens in a Gong Bath ?
You lie down fully clothed on a camping/yoga mat on the floor, warm and cosy with a blanket covering you whilst the Gongs and other Therapeutic instruments are played. The experience can feel different each and every time and for each person. Most commonly you will drift in to a space of deep relaxation ( a meditative state brought on by the sounds of the instruments ) you may fall asleep for some of the time, you may feel that you travel with the sounds, you may even see visions, perhaps colours or even hear other sounds.  Most importantly at the end, you can feel brighter, lighter, less stressed and re-energised. The gongs can also be very healing, helping to bring your mind, body and soul in to balance and even clear blockages. At the very least you are most likely to have a damn good sleep which is great for those suffering from insomnia. Some people report back as having felt the benefits and effects even a few days after the Gong Bath.
Note for those unable to lie down, it is possible to remain seated in a chair. Lying down is the most relaxing way to experience this fabulous meditation.
Benefits 
Gong sound can help to re-balance the physical, emotional and spiritual bodies. It has a profound affect on our cardiovascular, autonomic, endocrine and immune systems. It is an excellent holistic and complimentary therapy for stress related issues, depression, fatigue, anger and hostility, feelings of separation, loneliness, and fear along with many other conditions related to lack of balance and harmony in the body.
Do I need Experience of Meditation ?
NO Not at all. NO EXPERIENCE Necessary. The Gongs do all the work. All that is required is a willingness to accept and receive. It is relaxing and a great de-stress.
What to Bring
Please bring what you need for comfort lying down. Usually a yoga or camping mat, blanket or light cover. When we are at our most relaxed, our body temperature can drop! Best to be warm and comfy. Water to re-hydrate.
Preperation