Gong Bath and Sound Meditation – Islington 27th December 2016
27th December 2016 @ 4:20 pm

-

5:30 pm

£15.00 – £25.00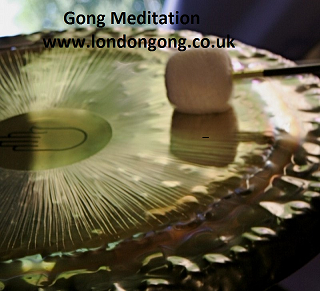 Gong Bath and Sound Meditation at Lilian Baylis Studio (Sadlers Wells) in North London , Angel Islington
End your year with a Gong!!! A fantastic opportunity to let go of what no longer serves us. We will focus on Letting Go!! allowing for what does in 2017 🙂
A journey of sound to experience a deep and

blissful

state enhanced by the power of the gong.
Feeling Stressed ? Can't Sleep ? Feeling out of balance ?
Immerse yourself in the sound waves from a vibrating gong.
Fantastic for stress relief, relaxation, insomnia and so much more. Many people report back as having had 'the best night's sleep' after having attended.
What happens in a Gong Bath ?
You lie down fully clothed on a camping/yoga mat on the floor, warm and cosy with a blanket covering you whilst the Gongs and other Therapeutic instruments are played. The experience can feel different each and every time and for each person. Most commonly you will drift in to a space of deep relaxation ( a meditative state brought on by the sounds of the instruments ) you may fall asleep for some of the time, you may feel that you travel with the sounds, you may even see visions, perhaps colours or even hear other sounds.  Most importantly at the end, you can feel brighter, lighter, less stressed and re-energised. The gongs can also be very healing, helping to bring your mind, body and soul in to balance and even clear blockages. At the very least you are most likely to have a damn good sleep which is great for those suffering from insomnia. Some people report back as having felt the benefits and effects even a few days after the Gong Bath.
Note for those unable to lie down, it is possible to remain seated in a chair. Lying down is the most relaxing way to experience this fabulous meditation.
Benefits 
Gong sound can help to re-balance the physical, emotional and spiritual bodies. It has a profound affect on our cardiovascular, autonomic, endocrine and immune systems. It is an excellent holistic and complimentary therapy for stress related issues, depression, fatigue, anger and hostility, feelings of separation, loneliness, and fear along with many other conditions related to lack of balance and harmony in the body.
Do I need Experience of Meditation ?
NO Not at all. NO EXPERIENCE Necessary. The Gongs do all the work. All that is required is a willingness to accept and receive. It is relaxing and a great de-stress.
What to Bring
A yoga or camping mat, (or purchase one of ours in advance)  blanket or light cover and head cushion. When we are at our most relaxed, our body temperature can drop! Best to be warm and comfy. Water to re-hydrate.
Preperation
Light food only up to an hour beforehand unless earlier in the day. No alcohol before the gong bath and best not afterwards too.
Nothing like word of mouth! Check out our new Reviews Page on our website http://www.londongong.co.uk/reviews
A review from Anna, a newbie to Sound Baths.
I just wanted to say thank you for an amazing gong experience this evening. It is the first time my partner and I have been to such an event and we both agreed it was a relaxing and took our breath away. I look forward to attending again. Anna
Just got home from a wonderful evening. The gong meditation with Odette was wonderful and we had a brilliant evening. Janet
Last nite was amazing l travelled around the world with the different sounds. Pollyanna
Important – Please arrive by 4.20pm latest allowing ample time for settling in and a little quiet time before we start. I recommend you arrive a little early with time to relax for the best experience. Once the Gong Bath starts at 4.30pm it will not be possible for latecomers to gain entry.
Refund Policy 
As per our Terms and Conditions which you agree to on booking,.  No cancellations or refunds for non attendance  however if you cannot make it,  You are welcome to transfer your ticket to a friend. Please let us know in advance by email, their full name for our door register.  Also due to the nature of the event, late entrance is not an option so please arrive allowing plenty of time.
Precautions:
Pregnancy (not recommended during the first and final trimester of pregnancy due to the unstable nature of any pregnancy) Tinnitus/Menieres/Epilepsy – any condition which is 'sound sensitive' or could be triggered by sound.  Metal Implants/pins/screws/pacemaker etc (can resonate the metal and also change rhythm of pacemaker) Mental health condition (anyone with a serious Mental Health condition)
Facilitator – Gong Master
Odette Kurland is a Gong Master, Reiki Master and Meditation Faclititator. She has trained with various Gong teachers including Don Conreaux, Abby delSol, Tom Soltran and Sheila Whittaker.
Venue – Fully Accessible and Wheelchair friendly
Please go to reception for our studio location.
Gong Bath Mats
We have a limited number of fabulous comfy Gong Mats available for purchase with your Gong Bath Ticket.  Your mat will be waiting for you at the Gong Bath. Never be Matless Again!! £15.00 each if purchased online. £20 on the day subject to availability.  We love these mats, they are comfy and 10mm thick!! Add a Mat and a Gong Bath ticket to your basket to purchase.
Made from A grade NBR foam – studio quality

Sound insulating & Vibration resistant

Size: 180cm x 62cm

Offering good memory, shock absorbtion and comfort

Come with shoulder strap

Colour Black
#gongbath #meditation #angel #londongong #soundhealing #soundbath#wellbeing #islington