Abby delSol – Short Bio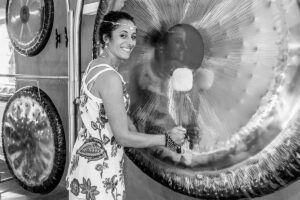 Abby grew up in a holistic family dealing with complimentary therapies in the alternative town of El Bolson in the Argentine Andes.  Since 2000 using drum rattles and singing began her work with Shamanic techniques helping people connect with their hearts and needs.
Abby was responsible for introducing the Gong to South America, organising workshops and concerts in Argentina, Chile, and Uruguay for Don Conreaux since 2004, as well as leading Gong SoundHealing and Mantra workshops at her family owned therapy centre 'Casa Isis' in her home town of El Bolson.
Since 2011 performed in many Tone of Life Mysterious Tremendum concerts in Europe, Argentina and Uruguay, weaving with fellow musicians The Voice, the Gong and many other instruments in the hope of nurturing a shift of consciousness of the audience to initiate a feeling of Oneness.
In 2012 together with her husband Tom, lead a project to play the Gong for Southern Wright Whales in the town of Puerto Piramides on the Peninsula de Valdes in Argentina.
Alongside her love for archaic sounds and singing as a tool to get in touch with your intuition, self awareness Abby has been practicing Yoga most of her life and in 2009 completed Yoga Teacher Training.  Since then began to synthesis the MEM Gong Yoga teachings of Gong Master Don Conreaux, with rich knowledge acquired over the years from many sources.
In 2012 Abby began to teach MEM Gong Yoga to students from all over the world and through this method is now helping people become more aware of the effects of the emotions on the physical body and visa versa.
Through a series of movements, breath and focused intention and attention along with the powerful vibrations of the Gong, voice and archaic instruments Abby leads you on a self exploration journey to your inner Self in order to breath self confidence in the great improvisation of life.