CANCELLED. This event will be rescheduled for 2019
Private event for Laughter Yoga Leaders trained by Laughter Yoga Wellness Training Academy in London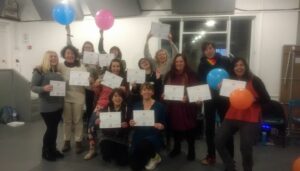 Laughter Leader Special CPD plus optional Laughter Club in the morning
Join us for our First Leaders CPD Day on Saturday 6th October. As our leader family is growing, We are now around 40 leaders trained by LYWUK Training Academy 🙂 So, let's get to meet one another. Ha Ha
share laughter exercises
share playful games
jointly run a laughter session
share ideas
brainstorm
connect
collaborate
Laugh lots 🙂
share what is not going so well to find ways to overcome any challenges or obstacles
share what is going well as this might be just what someone else needs to hear
This will be an opportunity for Laughter Leaders trained by Laughter Yoga Wellness Training Academy to come together, check in, catch up, say hello, play together, discuss and share ideas and generally connect with one another.
An opportunity to meet your colleagues and maybe form some collaborations.  Generally this is the space to support one another in person. Bring some of your favourite exercises and games to share.
This will also be a great opportunity for me to hear how you are all doing, what future support/training you may need so I can tailor that for you.
Laughter CPD Afternoon 1pm-4pm £20